About Shape
From Feeling to Shaping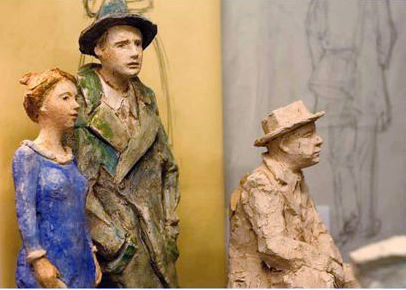 With Clio Makri
October 25-27 2014
in Aegina
The purpose of this workshop is to gradually get acquainted with the material, that is clay, its potentialities (possibilities), as well as with the fundamental concepts of sculpture, e.g. three-dimensionality, relationship to space. We will study and try to understand what shape is, proceeding from two-dimensional to three-dimensional space, paying special attention clay itself and its relationship to space.
We shall try to look at our surroundings in a different way, aiming to discover, observe (distances, proportions, stimuli) and finally relate to the material.
We shall try to gradually entre into a creative process by means of the clay: from discovery and feeling to relationship with the other and with space and finally to communicate with the material.
Clio Makri was born in Budapest and lived in Paris before settling down in Athens. She studied sculpture and mosaics at the Ecole des Beaux-Arts de Paris. She has had many exhibitions (individual and group ones) in Greece and abroad. She has studied psychology at the Paris V University and for the past 15 years has worked as artistic psychotherapist at the Drug Rehabilitation Center "18 ANO". She has organised seminars entitled "Expressing through art" at the Benaki Museum and elsewhere.
The workshop is open to ceramists and ceramic students.
See more for Clio Makri:
_ _ _
The workshops will take place within the Oikia Karapanou holdings.
Schedule: 10:00 – 14:00 & 16:00 – 18:00 guided workshop
The workshop will remain open the rest of the day..
Fee: 120 €
Applications will be accepted until Monday 13 Oktober 2014 with a 50% deposit to be credited into the Aegina Active Citizen Association's bank account.
Pireos Bank
IBAN: GR87 0171 4540 0064 5404 0030 533
Do not forget to include your name.
Please send us an e-mail confirming your application.
Early applications will be given priority.
For more information you can contact us at:
Boat schedules:
www.aeginaportal.gr/dromologia-ploion.html
Accomodation recommanded:
Stephania Pension (5mins away on foot): 35 € per night for a twin room
– – –