Narrative Sculpture
Tell a story by depicting daily life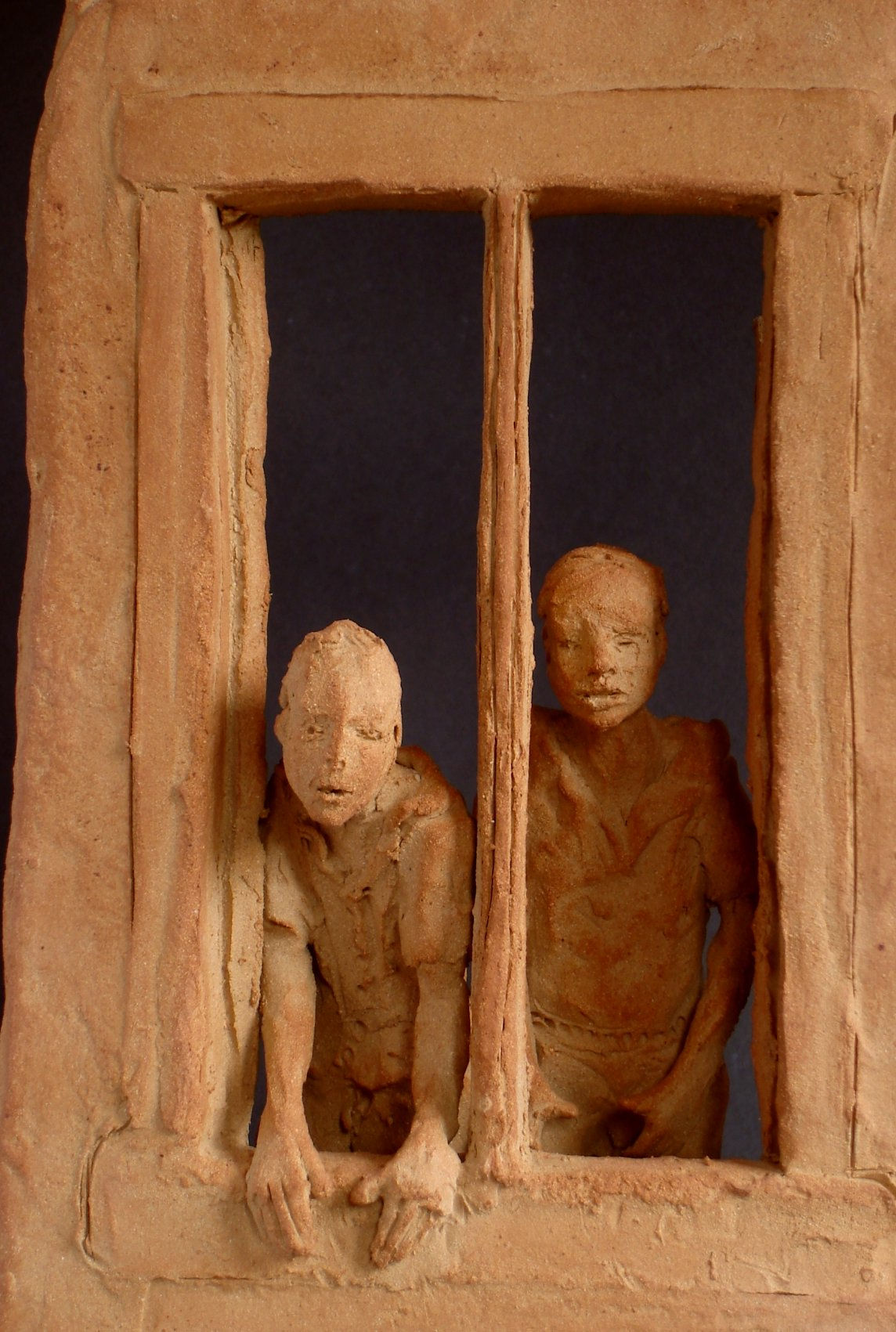 1st Workshop: 22 – 25 March 2014
2nd Workshop: 4 – 7 April 2014
in Aegina
Narrative sculpture, creation & construction with clay slabs
We will begin the workshop with:
Introduction to the modeling technique,
Study of the body's anatomy, its analogies and how it relates to its environment. Understanding the body mechanics when it is in movement.
Depiction of a daily life event in a specific environment.
Morphological study of a head, a hand or another part of the body
To continue we will try to understand the elements that form the head, their analogies and how they are linked in order to form the head – the face and how it is connected to the rest of the head.
Modelling of a colleague's face, one's own portrait, or another part of one's body so as to understand their joints and volumes.
Big size sculptures (about 50cm)
Working with clay slabs, modeling and imprints
This technique will allow us to create monumental sculptures with clay. We will use deformed clay slabs and bring them together. The piece is thus created step by step as we add slabs upon slabs or coil upon coil. The created piece is hollow, which allows us to work on its external and internal surface, and also makes it easy to fire.
Further morphological study of the human body will be needed for, when working on a big scale, problems relating to analogies can be seen more easily. We will try to understand and resolve them.
Creation of a small fountain or a finial
In the creation of the fountain, expressions will be exaggerated, caricatured, deformed, as seen in gargoyles, bad spirits, gremlins, human or animal monsters.
Finials, architectural elements seen on the roofs of buildings, are an old tradition. We will create our own finial, keeping in mind architectural and esthetic constraints of a sculpture placed in height.
– – –
The workshops will take place within the Oikia Karapanou holdings.
SCHEDULΕ:
10:00 – 14:00 guided workshop
16:00 – 20:00 free time in the studio
Fee: 120 €
Applications will be accepted until 28 February 2014 with a 50% deposit to be credited into the Aegina Active Citizen Association's bank account.
Pireos Bank
IBAN: GR87 0171 4540 0064 5404 0030 533
Do not forget to include your name and which workshop you are interested in. Please send us an e-mail confirming your application. Early applications will be given priority.
For more information you can contact us at ceramic@energoi-aegina.gr
For more on Laure Gaudebert and her work:
www.lauregaudebert-sculptures.com
Boat schedules:
www.aeginaportal.gr/dromologia-ploion.html
Accomodation:
Oikia Karapanou: 20 € per night per person
Stephania Pension (5mins away on foot): 35 € per night for a twin room
[contact-form-7 404 "Not Found"]